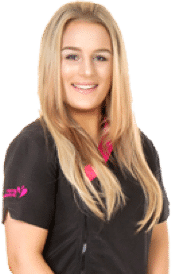 CAITLIN WYNNE
DO YOU HAVE ANY PETS? IF SO, WHAT ARE THEIR NAMES?
Yes. He is called Jaxon is a miniature poodle
WHAT IS YOUR JOB?
I am a professional dog groomer starting as an apprentice 4 years ago. I am now a stylist.
DO YOU HAVE ANY QUALIFICATIONS OR ADDITIONAL TRAINING IN GROOMING?
I qualified as a Vet in 2007. In 2014 my wife and I opened Knutsford Ve
Yes, I have a level 3 OCN dog grooming qualification and a level 2 dog grooming qualification aswell as a number of other animal related qualifications.
Level 3 Subsidiary Diploma in Animal Management and Behaviour
Animal Behaviour and Communication diploma
Animal biology, anatomy and physiology diploma
Animal training behaviour diploma
Breeding genetics diploma
HOW MANY YEARS HAVE YOU BEEN WORKING AT THE PET RETREAT? AND HOW MANY YEARS HAVE YOU BEEN A PET GROOMER FOR?
I have been working at the pet retreat for 4 years, I have been a pet groomer for 4 years.
WHATS YOUR FAVOURITE BREED OF DOG?
Poodle
WHATS YOUR FAVOURITE PART OF THE DAY WHEN WORKING AT THE PET RETREAT?
Seeing the finished result from when a dog first comes in to the salon to when they are going home (as in the difference in how they look).
WHATS YOUR GO-TO METHOD FOR KEEPING A PET CALM DURING A GROOMING APPOINTMENT?
Remaining calm and professional, encouraging the dog for their good behaviour. Giving plenty of reassurance throughout the groom… and lots of cuddles!
WHICH SONG CAN YOU LISTEN TO ALL DAY LONG?
Kate Nash – Foundations!
IF YOU WERE STRANDED ON A DESERT ISLAND, WHAT THREE ITEMS WOULD YOU WANT TO HAVE WITH YOU?
Knife, fishing net and matches.
DO YOU HAVE ANY OTHER INTERESTS OUTSIDE OF WORK?
I have a nearly 1 year old baby boy who I spend the majority of my time with, I also regularly compete in dog grooming competitions and I have won a number of awards. I attend seminars and I am constantly learning and improving within my career. I do not see myself doing anything else I adore my job!