Dog Grooming Cheshire – Peover Puppy Pamper
Complimentary puppy pamper at The Pet Retreat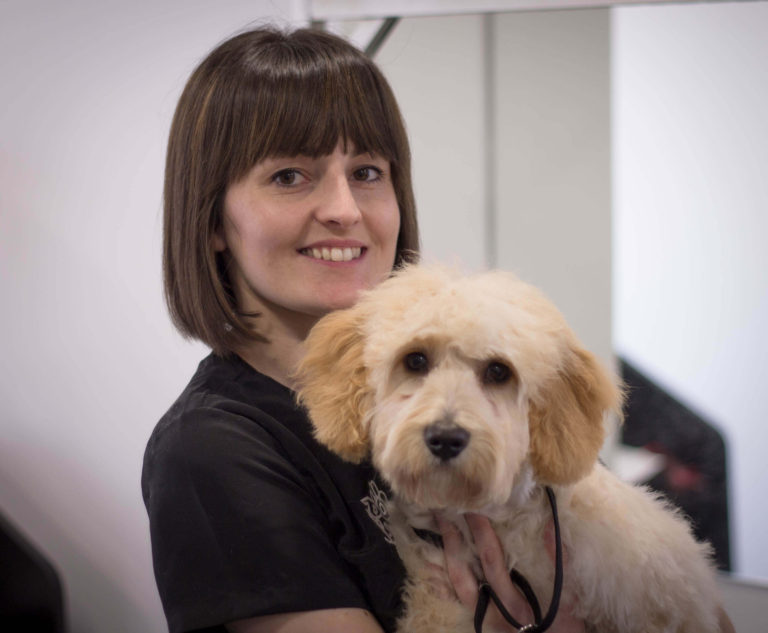 The puppy starter pack from Knutsford Vets now includes a complimentary puppy pamper at The Pet Retreat. I believe it is important to introduce your puppy to grooming from 12 weeks or after their second vaccinations.
Grooming isn't just about making your puppy look good. Regular care removes dead hair, keeps the coat and skin healthy; and gives you the opportunity to check your pup's general health. It's also important time spent together, building your relationship, trust and understanding. Starting early means that dogs get used to being handled and this makes grooming and veterinary examinations less stressful in the future.
Your puppy's introduction to Dog Grooming
A puppy pamper is a short introduction to the salon and to dog grooming, it begins with a gentle brush, before a bath in Wild Wash Sensitive Puppy Shampoo, followed by a fluff dry. I will also trim the hygiene area, pads, nails and around the eyes. The first session is kept to an hour and I like to reinforce the good behaviour throughout the groom with treats and finish with a play.
It is then advised to bring your puppy in for another session 4 weeks after, as usually they will then be ready for their first puppy trim and having already experienced some of the sounds and equipment, they won't find it overwhelming.
Grooming should continue at home
You should also be grooming your puppy at home so they become familiar with the sensation of being brushed. I sell slicker brushes and combs, which are ideal for the majority of coat types, and I also have bottles of the Wild Wash Puppy Shampoo available to buy.
Overall you want your new puppy to enjoy being groomed, especially breeds which will need professional grooming on a regular basis and by introducing them early you give them the best chance.
Knutsford Veterinary Surgery is also offering puppy workshops in association with Nigel Woodall of Oscar Pet Food, a local trainer and dog behaviour specialist. The course runs for 4 weeks and covers a range of behaviour topics and also a variety of veterinary information, which will be very advantageous to any new puppy owners. Further information can be found on the Knutsford Vets website or facebook page.
Maria Tawse – Grooming Stylist and Salon Manager