Just like the training and obedience with your new puppy, grooming is an essential part of their upbringing. Not only does grooming your puppy assist with taking care of their overall health and keeping their coat maintained, it helps them be social from an early age, being at ease with people, other friendly dogs and busy/noisy environments.
So, what age can a puppy have a full groom? We would recommend a puppy to have its first full groom at 6 months old. However, it would be beneficial to introduce your puppy to shorter grooming treatments at 10-12 weeks old, considering they are up to date with their vaccinations.
Read on to look through our guide to puppy grooming at The Pet Retreat. You might find some great tips along the way.
What Age Can a Puppy Have Its First Groom?
We recommend that your puppy receives its full first groom when it is 6 months old.
Once your puppy has received their second vaccinations, which is usually between 10 to 12 weeks old, we recommend you introduce them to their first grooming session. We recommend this for all coat types, as waiting until later in your puppies life can lead to complications, and may make grooming a stressful experience when your puppy has transitioned into adulthood. The Pet Retreat aims to make all dog grooming services as positive, enjoyable an experience as possible for your dog.
We believe it is best that your new puppy has two or three shorter puppy grooming sessions before experiencing a full-service groom. One reason being that many dogs have a double coat. If you cut a double coat too early, this could lead to it not growing back the same. This is why we recommend a build up to your puppy's first full groom with us.
You can find out about our full experience here.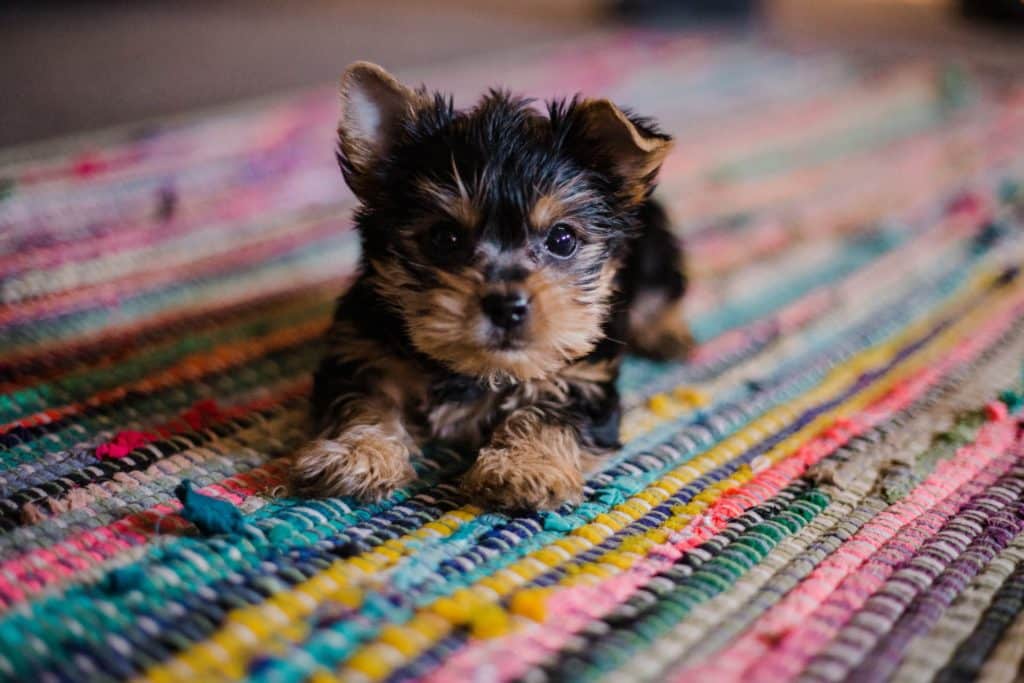 How to Prepare Your Puppy For Their Grooming Experience
In order to make your puppy's first visit to our dog groomers enjoyable, we recommend you do a few things to prepare them for this positive experience. Here are some tips that will help:
Ensure your puppy is comfortable being held by gently touching all parts of their body.
Make sure they're comfortable being held by holding them yourself as much as possible.
Introduce your puppy to a brush at a young age and show them there is nothing to be afraid of.
Gently brush them, building up the time spent brushing them each day. If they get stressed or over agitated, stop brushing.
Ensure your puppy is used to, and feels comfortable with their paws being held and their ears being touched.
What Does a Puppy Groom Include?
At The Pet Retreat, our 'puppy pamper' introduction grooms take place over a period of time. Below, we have listed what exactly it is they consist of, to further help your puppy prepare for their first session with us.
A bath
A gentle blow dry
A brush through
Nails clipped
A hygiene trim and a trim by the eyes
Over the course of the puppy sessions, we aim to build up the longevity of the groom by adding a little more trimming, including around the face, feet and legs – this will hopefully allow your puppy to gradually work up to a full groom so that they are comfortable with it when the time comes.
What are the Benefits of Grooming?
When you think of pet grooming, it's often seen as a luxury in your dog's life. But it is in fact a necessity to your dog's wellbeing for a variety of reasons.
For a puppy in particular, it helps with their socialisation. A well socialised puppy is going to have fewer behavioural problems in their life. There are also plenty of other benefits to dog grooming:
Promotes Health & Prevents Disease
It is much easier to prevent skin conditions when your dog is regularly groomed, It is also a good way to keep track of any abnormalities. Your groomer is constantly checking your pet all over their body, so they can easily notice signs of illness such as weight loss, sores, lumps and bumps, or even sore spots that may appear.
Improves Coat Health
Brushing your dog's coat really helps it to grow, as it promotes hair follicle growth and prevents blocked pores. You are essentially allowing your dog's skin to breathe, so brushing your dog's coat prevents the build up of old hair and boosts healthy hair growth. Not taking care of your dogs coat can lead to matted fur, which is extremely uncomfortable for your dog and can further lead to skin problems,
Cleanliness
Your dog loves to be outdoors. Grooming gets rid of the excess dirt which you might have not managed to get after their adventures. If the excess dirt is left on their skin, this can also create problems for them. Afterall, a clean dog means a cleaner house, so regular grooming will help to reduce the excess hair you find around your home.
These benefits are the same for any breed of dog, with any coat type. Learn more about your pup's coat type here:  combination coat, smooth coat, long coat, wool coat wiry coat.
Dog Grooming At The Pet Retreat
At The Pet Retreat, we work hard to make sure you and your dog are as comfortable and happy as possible throughout the appointment and with the final result of your puppy's grooming session.. Our process includes a complimentary consultation, enabling us to understand your requirements and assess your pet's coat and skin health.
Once the appointment is done, we'll offer you advice on how to care for your pet's coat before their next visit. Learn more about our services online today, and find out how you can book an appointment with The Pet Retreat.